---
Compression Springs
The cross-section of the spring material used for the compression spring is divided into a circular shape, a rectangular shape, and a multi-strand shape. In recent years, in order to improve the utilization of the spring material, a pipe material is also used. In order to improve the fatigue strength, the cross section of the flat material is also gradually expanded.

The compression spring has a wide application, and the spring has sufficient clearance between each turn. The gap can be shortened after compression, and the original length is restored when the pressure disappears. In order to increase the contact area of the spring, the ends of the spring are often flattened.

The compression spring is generally of equal intercept. In special cases, there is also an equal intercept. When the compression spring is equal to the intercept, its characteristic line is linear. When the intercept is not equal, the characteristic line is nonlinear.

TSMC produces pressure springs of various sizes and shapes, such as straight barrels, cones, barrels, etc. If you have special needs for compression springs, our experienced engineers will design for you ( Including load and service life and other characteristics), manufacturing products that meet your company's needs.
Gallerys
Engineering Design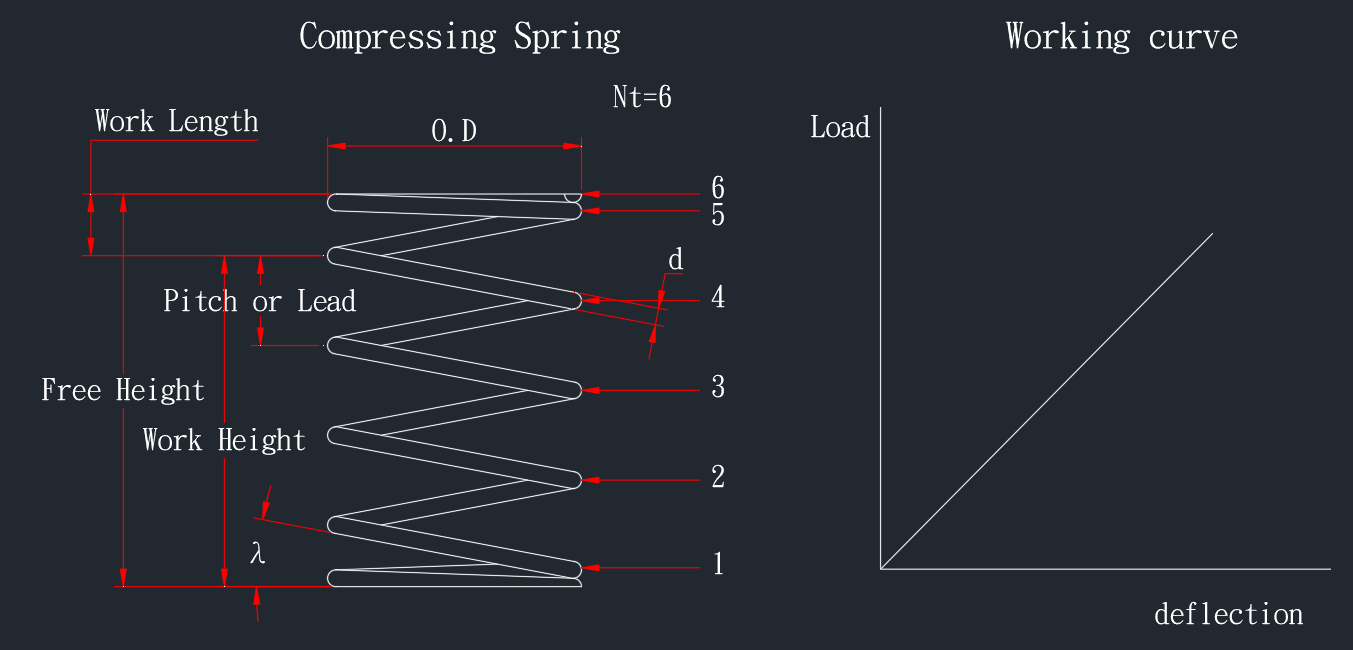 Custom products are a specialty of TSMC (Tech Spring Manufacturing Corp.), as a full service precision manufacturing company, our experienced engineers have extensive knowledge of custom parts, they are always available to assist you to conduct a comprehensive functional analysis of development and gives a feasible solution through our own formula from the preliminary design phase to fabrication that meets your application needs.

There are four critical factors when considering a Compression Springs design such as Bore/ shaft (ID/OD), Load, Working height at which the load is applied and Material desired, as well as the other input parameters that contain the wire thickness, wire radial wall, active number of turns, work height, load at work height ... The input data as shown on the left table. And calculation results with spring rate (stiffness), working load (±10%), outer diameter at solid height, Working curve and Life cycles prediction where found in the down table.

Whether you need a standard or custom Compression Springs, please send us your application requirement, our experts will hand-select or commend the best solution for your specific needs.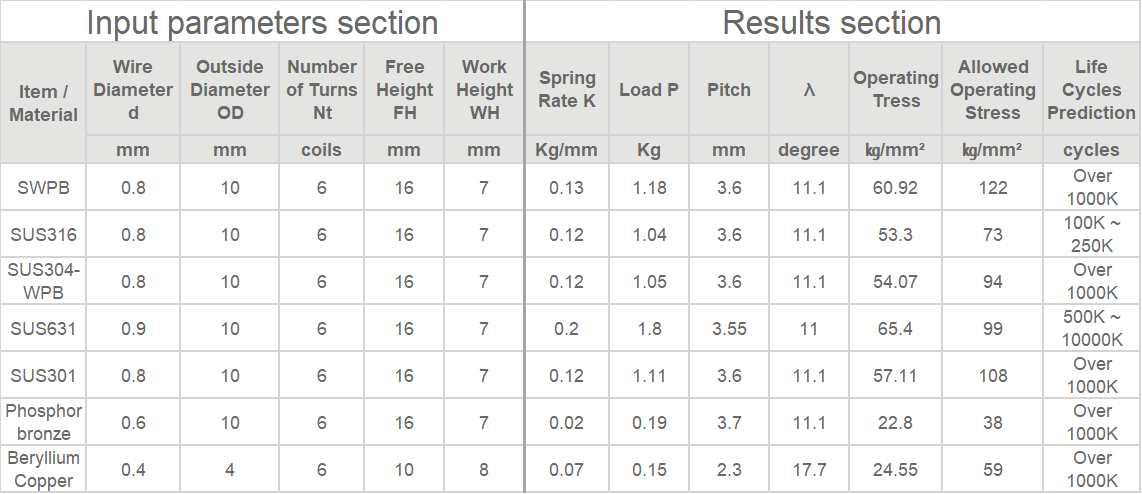 Video
Related Materials

---