Precision Stamped Parts & Custom Metal stamping
TSMC is an industry leader in the design and manufacturing of high micro precision parts, or called precision metal stamping, we can formed many different shapes from round, rectangular, flat, wedge materials and many custom requirements.
We manufacture parts for many of a broad range of customer applications and offer a vast variety of size and material. Ranging from small parts 0.05mm of width and 0.02mm of thickness, available material in stainless steel and exotic metal alloys, along with our in-house surface finish or assembly work also engineering support from the preliminary design to fabrication.

Backed by our extensive experience, remarkable of engineers and the latest equipment, we have the capabilities to manufacture custom metal shapes and parts for a variety of industries including automotive, aerospace, marine, medical and construction industry and more.

Years of design and manufacturer expertise enable us to meet the needs of the world's most demanding applications as well as custom metal stamping.
Robotic Laser Welding
TSMC has expanded its welding capabilities with the addition of a robotic laser welding. Laser welding is an accurate, clean and flexible option thus can offer a cost-effective and flexible application for achieving high quality weldments. It can reduce the overall weld time, lower distortion and less consumable usage.

Our in-house engineering departments can work with our customers and provide engineered solutions for your parts and assemblies, It can solve many engineering problems that require extremely precise welding.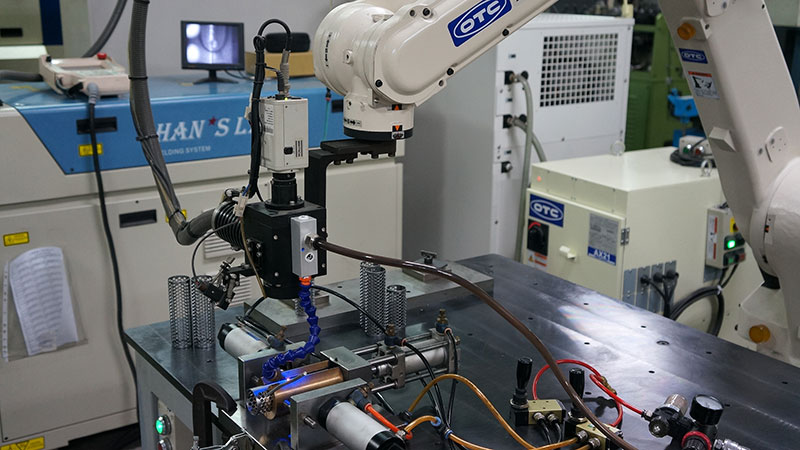 Custom Design & Engineering Services
As a full service manufacturer, TSMC provides complete fabrication services, our engineering team have capability to supply the custom parts with unique dimensions, features and finishing as well as a complete sub-assemblies to fulfill a production application's needs. Our experienced engineers can work with our customers' engineers to recommend manufacturing methods, materials, tolerances, and finishing from idea conception to final product delivery.
One Stop Shop Partner
And as always we are committed to providing quality products and service.
Our service includes:
1. Springs, precision metal parts and plastic injection parts manufacture.
2. Many kind of Shaft parts process with CNC Lathe.
3. Product Surface treatment : PVD, CVD, TELFLON COATING, parylene coating ..etc.
4. Precision laser cutting, laser welding, laser engrave services
5. CNC milling precision processing.
6. Springs, Metal precision and/or Plastic Injection parts combination and assembling.
Application
At TSMC, our Precision Stamping Parts are widely applied to Solar Equipment, Medical Equipment, Aerospace Equipment, Electronic Components, Cooling Module, LCD Industry, Wireless / Telecommunications Equipment and Others Digital Equipment.
Related Products

Since the rise of environmental awareness, the world is turning its focus to cleaner power,...

Details

At TSMC, we can carry our micro-precision processing for rectangular, round and other shapes...

Details

Related Materials
Wave Springs
Full Catalog

Download
Tags
Precision Stamped Parts & Custom Metal stamping | Spring Manufacturer - Tech Spring / TSI / TSMC
Tech Spring Manufacturing Corp. is one of the prime Precision Stamped Parts & Custom Metal stamping | spring manufacturers based in Taiwan since 1987.
ISO accredited and manufacturing all types of springs, stamping molding and assembly of metal parts to Europe, USA, UK & Australia. We are specialized in the manufacturing, designing and analyzing all kinds of spring, such as wave springs (including of compression wave spring, wave single turn and nested spring), linear expander, retaining rings (including of internal, external, single turn and more turns), constant force spring, power springs (including of general and prestressed types), etc
Tech Spring / TSI / TSMC has been offering customers high-quality precision-made springs, both with advanced technology and 31 years of experience, Tech Spring / TSI / TSMC ensures to meet each customer's demands.