Constant Force Springs
Constant Force Springs are generally constructed as a pre-stressed flat strip material that is tightly wrapped around a drum or shaft in the center and the hole in the free end is attached to a loading force like a counterbalance application. As the spool is unwound (deflected), it exerts a near constant force because the geometry of the coil remains nearly constant by the drum.
TSMC's constant force springs offer a number of user benefits: include a constant load at a zero rate, a smooth range of motion, strong force yield within small spaces, extremely long linear extensions possible and store power indefinitely when extended... The constant force spring is an excellent design component for applications where a constant load is required.

Basically, the length, material thickness, width, the diameter of the coil and the natural radius curvature all contribute to extension resistance (affect the spring's load). Additional flexibility in load can be increased by using multiple constant force springs with spool, tandem, laminar, back to back, cavity ,pulley mounting or in other configurations to suit the design situation. The full rated load of the spring is reached after being deflected to the length extended to 1.25 times its diameter.

Our constant force springs can be used in many applications include systems that require retraction like cable retractors, door closers, power cords, tape measures, window regulator mechanisms, hose retrievers, space vehicles, gym equipment, counterbalances, toys, electric motors, hair dryers, and other long-motion functions. Also our talent engineer can custom design and manufacture an end fitting for your application.
Features
Roll back the force (zero gradient).
When stretched to a length of 1.25 times the outside diameter, a fixed force is achieved.
There is no friction between the coils (acting smoothly).
Engineering Design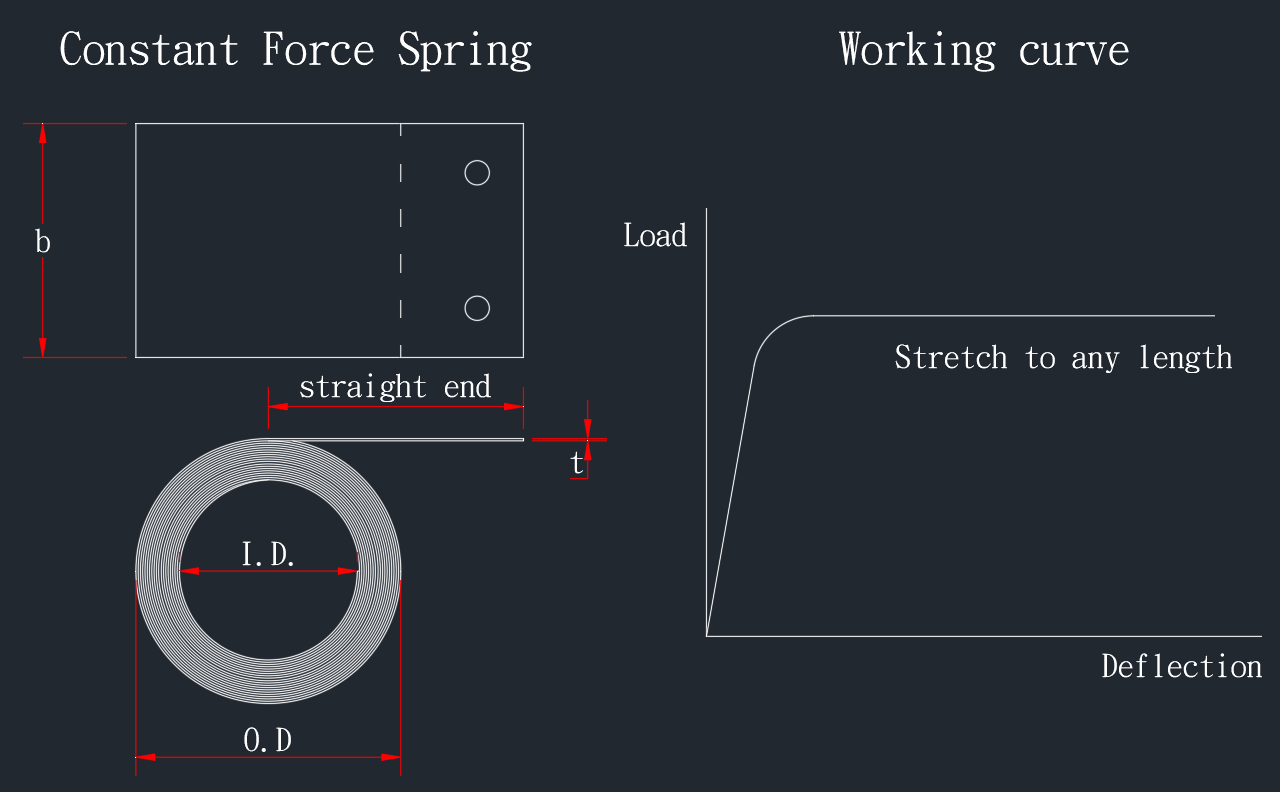 Custom products are a specialty of TSMC (Tech Spring Manufacturing Corp.), as a full service precision manufacturing company, our experienced engineers have extensive knowledge of custom parts, they are always available to assist you to conduct a comprehensive functional analysis of development and gives a feasible solution through our own formula from the preliminary design phase to fabrication that meets your application needs.

There are four critical factors when considering a Constant Force Spring design such as Bore/ shaft (ID/OD), Load, Working height at which the load is applied and Material desired, as well as the other input parameters that contain the wire thickness, wire radial wall, active number of turns, work height, load at work height ... The input data as shown on the left table. And calculation results with spring rate (stiffness), working load (±10%), outer diameter at solid height, Working curve and Life cycles prediction where found in the down table.

Whether you need a standard or custom Constant Force Springs, please send us your application requirement, our experts will hand-select or commend the best solution for your specific needs.

Video
Constant Force Spring
Related Products

TSMC 'S Constant Torque Springs are constructed from a pre-stressed flat strip material that...

Details

TSMC 'S Constant Torque Springs are constructed from a pre-stressed flat strip material that...

Details

Related Materials
Wave Springs
Full Catalog

Download
Constant Force Springs | Spring Manufacturer - Tech Spring / TSI / TSMC
Tech Spring Manufacturing Corp. is one of the prime Constant Force Springs | spring manufacturers based in Taiwan since 1987.
ISO accredited and manufacturing all types of springs, stamping molding and assembly of metal parts to Europe, USA, UK & Australia. We are specialized in the manufacturing, designing and analyzing all kinds of spring, such as wave springs (including of compression wave spring, wave single turn and nested spring), linear expander, retaining rings (including of internal, external, single turn and more turns), constant force spring, power springs (including of general and prestressed types), etc
Tech Spring / TSI / TSMC has been offering customers high-quality precision-made springs, both with advanced technology and 31 years of experience, Tech Spring / TSI / TSMC ensures to meet each customer's demands.