---
Power Springs
Power springs are sometimes referred to as clock springs, spiral torsion, flat spiral springs, motor springs or brush springs, they are made by tightly winding a spring material on an arbor in a circular case and attaching the free end to a metal or plastic case which is designed to store and release a rotational energy in the form of torque, that makes up a power spring are able to offer a high force output with very small space requirements.

There are two basic types of power spring-" Conventional Power Springs" that has a shape which spirals away from center in the same direction as it is wound, where the advantages are lower stress, best cycle life and easiest to manufacture.

Alternatively, the Prestressed Power Spring has a portion of it's shape that spirals in the reverse direction of winding, it can creates higher stresses which result in higher torque output up to 25% than a conventional power spring, and also yields a flatter torque gradient.

Both methods have their advantages and the best option varies depending on the application and requirements, often, these springs are designed for customer specific applications and are used in the automotive, aerospace & defense, medical, industrial, electronics markets and commercial goods. Custom Power Springs and Conventional Power Springs are available at TSMC, our experienced engineers can assist you select a spring design to meet your space, life cycle, load and operation requirements.
Engineering Design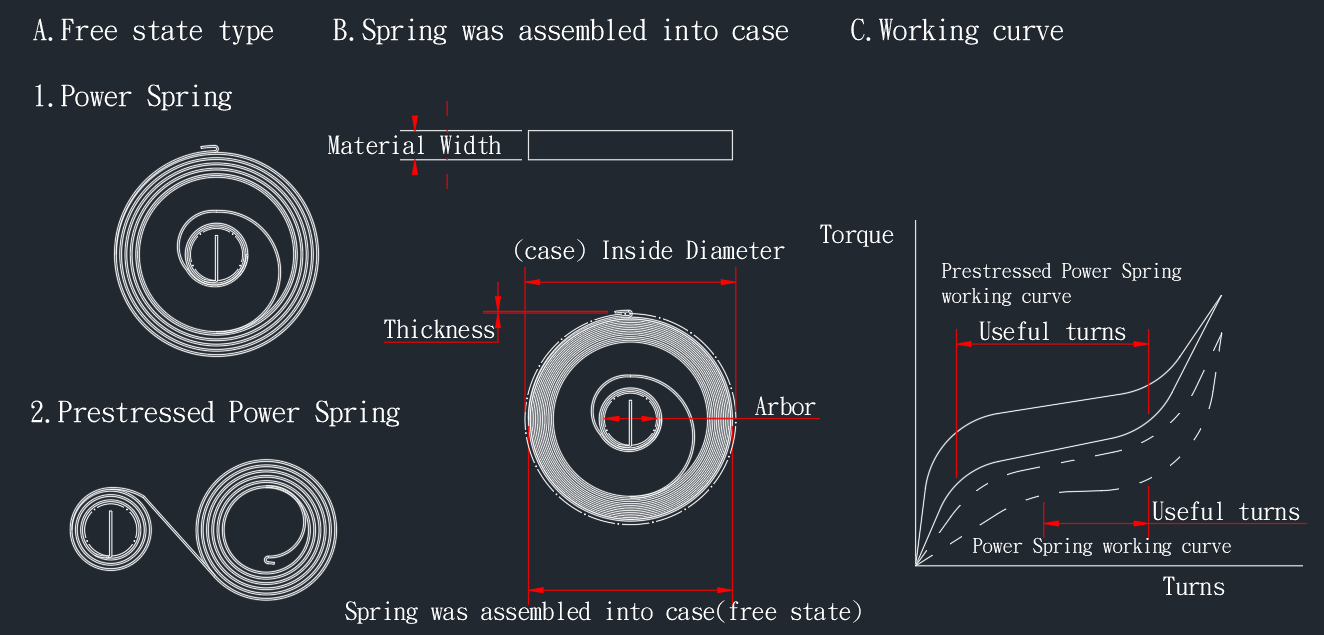 Custom products are a specialty of TSMC (Tech Spring Manufacturing Corp.), as a full service precision manufacturing company, our experienced engineers have extensive knowledge of custom parts, they are always available to assist you to conduct a comprehensive functional analysis of development and gives a feasible solution through our own formula from the preliminary design phase to fabrication that meets your application needs.

There are four critical factors when considering a Power Spring design such as Bore/ shaft (ID/OD), Load, Working height at which the load is applied and Material desired, as well as the other input parameters that contain the wire thickness, wire radial wall, active number of turns, work height, load at work height ... The input data as shown on the left table. And calculation results with spring rate (stiffness), working load (±10%), outer diameter at solid height, Working curve and Life cycles prediction where found in the down table.

Whether you need a standard or custom Power Springs, please send us your application requirement, our experts will hand-select or commend the best solution for your specific needs.

Video
Related Products

---

TSMC Spiral Torsion Springs also known as clock springs, flat spiral spring or spiral torsion springs, they are typically manufactured from high carbon steel or stainless steel that wound in the flat state, and are characterized by the condition that their coils do not contact during operation, the inner end of these springs are fixed and the other end attached to the other components that is rotating the spring torque. This design offers reduced force, also reduce friction to zero (coil friction free) when installed correctly.Spiral Torsion Springs are the most commonly used type of flat spring and are sometimes used in place of the traditional torsion spring as they rotate in circular movements, the torque deliver per revolution is linear for the first 360 degree, at greater angular rotation, the coils begin to close on the arbor and the torque per turn increases rapidly also per revolution on nonlinear when closer to the axis, thus these type of springs are ideally suited for applications requiring less than 360° of angular rotation.Our custom designed Spiral Torsion Springs are available in a variety styles, sizes and materials, this makes power springs useful in a wide variety of applications, with this complete selection of styles available, our experienced engineers can help you select a spring design to meet your needs.

---

---

Both of our conventional power springs and back wound pre-stressed power springs are formed by winding a pre-stressed flat strip on an arbor and enclosing it in a case, these springs are used to store and release a rotational energy in the form of torque.Prestressed Powder Springs are wound around the arbor in reverse direction and assemble it in a housing or keeper, it is "S" shaped when in the free state, the ends configurations can be formed a connection hook or bend, or it can be pierced or notched a hole. As spring thickness and length increases and spring space relatively increase.This unique configuration yields a compact power source that allows the spring torque increase throughout the number of useful turns and cause a higher working stress while resulting a flatter torque gradient.In comparison with a conventional power spring, a prestressed power spring can have a greater energy storage capacity up to 25% to 55% with the same torque and deflection, which is suitable for use in applications where winding, counterbalancing and retrieving are required.

---

---

Related Materials

---